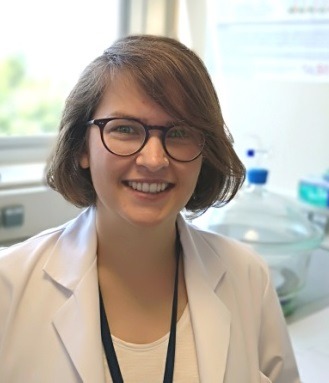 ESR project: Biological fate studies of protein corona around glyco-nanoparticles
Supervisor: Dr Sergio Moya
Institution: CIC biomaGUNE, ES
Country of origin: Germany
NanoCarb research: The formation and stability of protein corona around nanoparticles functionalized with different glycans and how the corona is affected by intracellular translocation will be studied by means of Fluorescence Correlation and Fluorescence Cross Correlation Spectroscopy and complementary advanced optical microscopy.
Publications and other dissemination in NanoCarb:
Jennifer Fernandez Alarcon, Mahmoud Soliman, Tanja Lüdtke, Eva Clemente, Marko Dobricic, … Sergio Moya, Paolo Bigini and Marco P Monopoli. Long-term retention of gold nanoparticles in the liver is not affected by their physicochemical characteristics. Nanoscale. 2023. 
Scientific background: Tanja has a Bachelor degree in Chemistry and Biochemistry from the Ludwig-Maximilians University of Munich. After her Bachelor thesis about fluorinated T-Antigen analogues as potential anti-tumor vaccines, she continued the Master's program in Chemistry at the LMU Munich with research stays in the group of Soler-Illía (CNEA, Buenos Aires), Feldmann as well as in Carell (LMU Munich) and in Sergio Moya's research group at CIC biomagune, where she completed her Master thesis. Her thesis was about the growth of polyacrylic acid brushes on titania surfaces for controlled release of strontium in biological fluids.