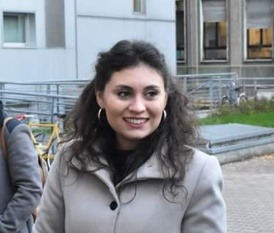 ESR project: Fully degradable glycopolypeptide nanoparticles for the delivery of active compounds
Supervisor: Prof Andreas Heise
Institution: Royal College of Surgeons in Ireland, IE
Country of origin: Italy
NanoCarb research: Daniela will work at RCSI (Department of Chemistry) and her project will aim at the development of a method for the synthesis of stabile glycosylated nanoparticles using polymers of amino under emulsion conditions. It will also address the biodegradation, bio-interaction as well as the loading and release of active molecules to validate feasibility in drug delivery.
Publications and dissemination in NanoCarb:
Daniela Tomasino. Nanoparticles via SET-LR-PISA. 72nd Irish Chemistry Research Colloquium, 17-18 June 2021. Presentation.
Daniela Tomasino. Glycosylated Nanoparticles by SET-LR-PISA. Bordeaux Polymer Conference, Bordeaux, FR, 13-16 June 2022. Poster.
Scientific background: Daniela completed her Bachelor's degree in Industrial Chemistry at University of Milan, where she first came into contact with biopolymers working on the synthesis of cyclodextrine derivatives-chain transfer agents. In October 2018, she pursued her master's degree in Industrial chemistry (October 20018, UNIMI). During the 12-months laboratory activity, she worked on the synthesis sulfonated polyarylethersulfones (SPAES): she studied their application as membrane in photoelectrocatalytic devices and used them as doping agent for the preparation of PEDOT polymeric solution. As an Erasmus student, she studied PEDOT:SPAES thermoelectric properties at Leibniz University of Hannover.