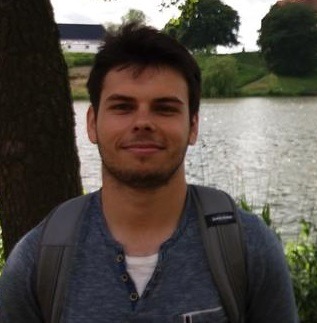 ESR project: Synthesis and biological evaluation of glycan-coated nanoparticles for enhanced drug delivery of bioactive compounds
Supervisor: Dr Marco Monopoli
Institution: RCSI, IE
Country of origin: Portugal
NanoCarb research: Avelino will develop methods to allow the synthesis and analysis of glycan-coated gold ultra-small nanoparticles (<10 nm). He will evaluate the interaction of this multivalent carbohydrate-platform with lectins. He will also prepare gold nanoparticles tagged with a fluorescent linker to probe binding to cells and cell surface motifs, such as integrins and glycopeptides. He will probe the exploitable mechanisms of cell uptake and assess the shedding of therapeutic payload in cells.
Scientific Background: Avelino holds a MSc in Bioengineering with specialisation in Molecular Biotechnology from the University of Porto, Portugal.
Dissemination and Outreach
Avelino Ferreira, Patricia Pérez Schmidt, Valentin Cognet , Diana López, Ibon Perera, Miguel Rodríguez, Africa Barrientos. Synthesis and Characterization of Ultra-Small Gold Nanoparticles: Midatech Pharma MidacoreTM Platform. 3rD Glycobasque Meeting at CICBiogune in Bilbao, ES, 12-13 March 2020. Poster
Avelino Ferreira, Jennifer Fernandez Alarcon, Sergio Moya, Paolo Bigini, Marco Monopoli. In vitro and In vivo Biological Evaluation of Functionalized Ultrasmall Gold Nanoparticles for Targeted Drug Delivery. ETP Nanomedicine conference, Braga, PT, 20-23 June 2022. Poster.